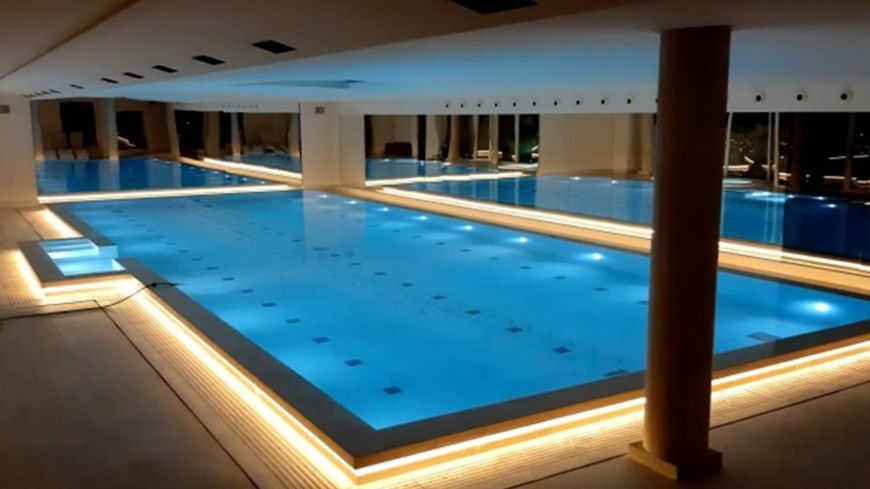 Renovations are always complex compared to an ex-new pool construction , these must take into account the load-bearing structures of the pool, plumbing, coatings and 'lighting.
For the structural part, action will be taken with appropriate repair mortars and possible new waterproofing
For the plant engineering part with pressure tests and possibly video inspection on the pipes
For the cladding part it will be intervened by redoing the new PVC covering or replacing it with other ceramic, stone, glassy coverings.
For lighting, the replacement of old halogen lamps.
IN THIS EXAMPLE most of the work was done on the natural pool lining both inside and outside the pool, the overflow edges had major erosions and the overflow was no longer linear and continuous while the bottom was cracked and sharp,, Even the outside grates underwent drastic rehabilitation work
The first phase of work was to dismantle the perimeter of the overflow edge in its entirety and rebuild it with new travertine elements in various monolithic elements where the anchoring profile of the perimeter LED lights also found accommodation.
Following smoothing of the bottom and the walls, giving the stone a new skin ,this was a careful and meticulous work given the little thickness left to the travertine cladding.
Having finished the phase of aesthetic recovery of the facing stones we moved on to the filtration and disinfection part.
Filters are one of the most important components of the entire pool; they are reserved for the task of filtering and retaining impurities that collect or form in the pool water. The filter is equipped with a selector valve, Series AFM-960 diameter 960 H 1520mm, filter bed 1200mm in this case we used electrically charged activated glass called AFM , this filter in addition to having an excellent filtration reduces the bacterial load and consequently the consumption of chemicals by 30% less than a common silica sand filter bed, it also reduces the consumption of water in its washing being glass a different specific gravity than sands.
Disinfection was entrusted to a salt electrolysis system with automatic pH control, the two elements ensuring good water balance even at high temperatures.
The renovation of the pool was not limited to the coating but also dealt with the lighting aspect, new interior LED spotlights and exterior LED STRIPs, with an overall impressive result
Back